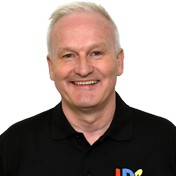 About me
Hi I'm David, I am licensed by the DVSA to give driving instruction and I am passionate about road safety.
To tell you a little bit more about myself I was born and bred in the area starting out at Knock ( near Appleby) then moving to Penrith at the age of two. Before finally settling in Newbiggin with my lovely wife Vicky and beautiful daughter Daisy.
As a family we are animal-daft sharing our lives with three Cats, a Hamster, a Horse and a Pony. Im fairly competitive by nature and in my spare time I like to play Golf at PGC and Badminton for Blencowe Badminton Club in the local league. I also love Music and socialising within our excellent and varied circles of friends.
I decided to train to become a driving instructor because I wanted a job with real satisfaction and there is nothing better than seeing someone pass their test first time. I was also always being told by friends and work colleagues that I was a calm and relaxed type of person and that I would make a great Driving Instructor.
I am fortunate to be training with LDC using the latest adult coaching and training techniques so you can be assured the training I give will be of the highest standard.
I chose to work with LDC because everybody is different and the LD System allows for flexibility in lessons so that you learn to drive safely at a rate that suits you. I aim to make every lesson enjoyable and as productive as possible. The LD System just helps me to do this more effectively.
Lessons are always conducted in a calm, friendly and relaxed manner as I firmly believe in making pupils feel at ease during lessons.
Well I hope this gives you a brief idea about me so please feel free to click here to "Contact me"